(a spoiler free review)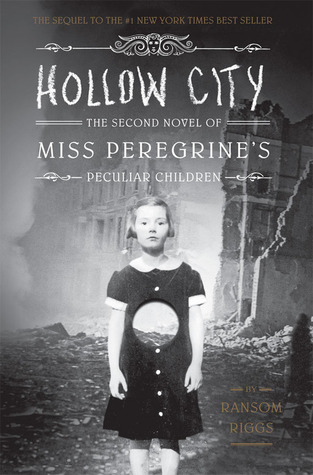 NAME : Hollow City
AUTHOR : Ransom Riggs
SERIES : Miss Peregrine's Peculiar Children (#2)
RATING : 3/5
REVIEW : Being a fan of the the first book and having read it when it first came out on recommendation by a friend, I was looking forward to the release of the second. However months went by and I read many more books in that space of time that I began to forget the excitement I had when reading Miss Peregrine's Home For Peculiar Children. I let the release of Hollow City pass me by and it went to the back of my mind.
That is until the announcement for the release of the third and final book in the trilogy, Library of Souls. I remembered reading Miss Peregrine's Home... and was thoroughly disappointed in myself that I didn't read Hollow City sooner.
The book is set in 1940's England, and picks up directly after the events of the first book. The children are on a boat in the middle of the ocean with their Headmistress, and protector, Miss Peregrine, still in the state she was at the end of Miss Peregrine's Home...
The story progresses as the peculiar children, each one blessed with a peculiar gift ranging from creating fire with their hands to having control over the bees that live in their stomach to being completely invisible, attempt to evade capture from the enemy wights, who are out to catch and kill all peculiars and their protectors, and visit more time loops in an attempt to save their beloved headmistress.
Just as you believe the story is about to conclude, a twist arises that is almost unbearable and you must pick up the next book ASAP to see what happens, as I did.
The use of creepy, antique photos throughout the series really does heighten the reading experience, for me at least, as you are able to in vision with absolute clarity the scenes and characters, creating a uniquely original form of art that combines perfectly with the story.
I would give this book a 3/5 rating, as although the story did carry on in a smooth manner, the photos I believe may have been a slight limitation as to where the story could have gone, but I definitely recommend this book besides.